Weekly Newsletter // October 22nd, 2019
The mission of Our Gente is to encourage and recognize lesbian, gay, bisexual, transgender, queer/questioning, intersex and asexual youth by providing a safe, supportive environment during our monthly social support groups, community trainings, and community events facilitated by the Queer/Trans Youth Collective. The purpose of this newsletter is to keep the members of our community informed about upcoming events and engaged with LGBTQ+ issues both locally and nationally. We hope that this can become a great resource for young LGBTQ+ identifying individuals in the Monterey County area!
Ooky Spooky Decorating Party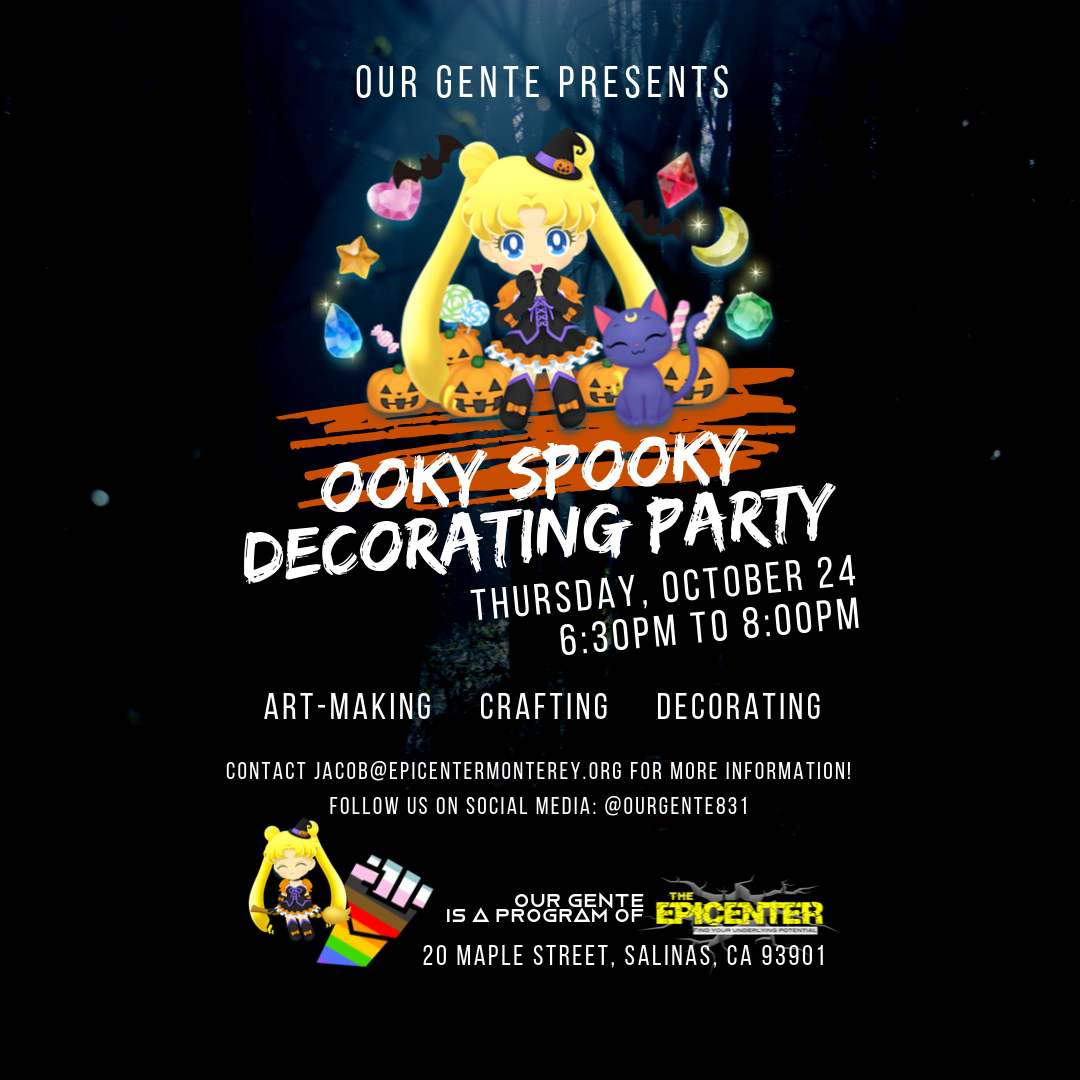 Our Gente hosts social support groups for LGBTQ+ youth and allies every 2nd and 4th Thursday evening of the month. For our second social support group of the month, we'll be hosting an arts & crafts night on October 24th at 6:30 PM at The Epicenter. We'll be making decorations for The Epicenter's Halloween Potluck and will also be taking time to decorate the center itself. Bats, ghosts, pumpkins, and more: It's going to be a lot of fun!
Epicenter's Halloween Potluck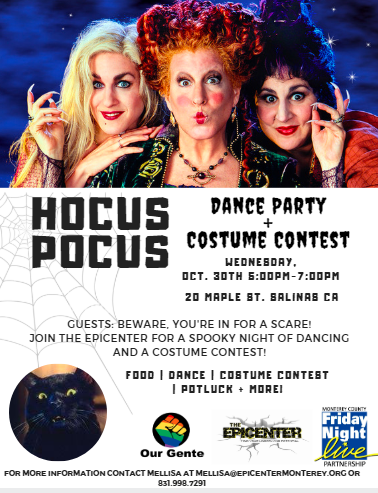 On Wednesday, October 30th from 5 PM to 7 PM, The Epicenter will be hosting a Halloween Potluck open to the general public. Come and join us, bring your family and friends and enjoy an early evening filled with dancing, delicious food, games, and much more! If you have any questions please call the Epicenter at (831) 998-7921, or e-mail Mellisa at mellisa@epicentermonterey.org.
November Social Support groups
Because the 4th Thursday of November is Thanksgiving, we have a modified schedule for our social support groups for the month. We will be having an Our Gente Hike Day on November 2nd, and will continue with our Sharing Circle series on November 14th.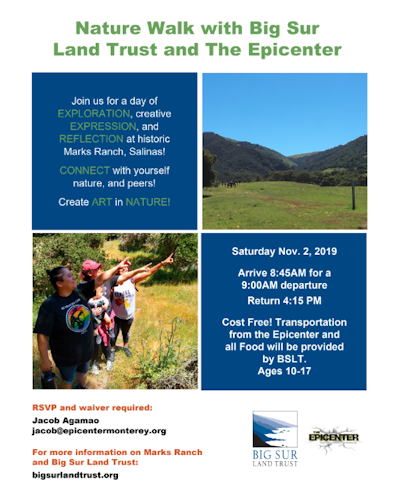 The Epicenter's partnership with Big Sur Land Trust brings Monterey County youth out into beautiful nature environments several times throughout the year. On Saturday, November 2nd, Our Gente and Big Sur Land Trust will host a small group of youth on an outdoor day camp in Marks Ranch just outside Salinas, incorporating hiking, art, and poetry in a fun interactive day on the trails. We'll leave The Epicenter around 9 AM and return around 4:15 PM; all transportation and meals will be provided!
Youth aged 10-17 who are interested in participating in the Our Gente Hike Day are encouraged to sign-up by contacting jacob@epicentermonterey.org or visiting the Epicenter Tuesday through Friday from 12 PM to 6 PM during drop-in hours to pick up a participation form. Space is limited, so please sign up as soon as possible!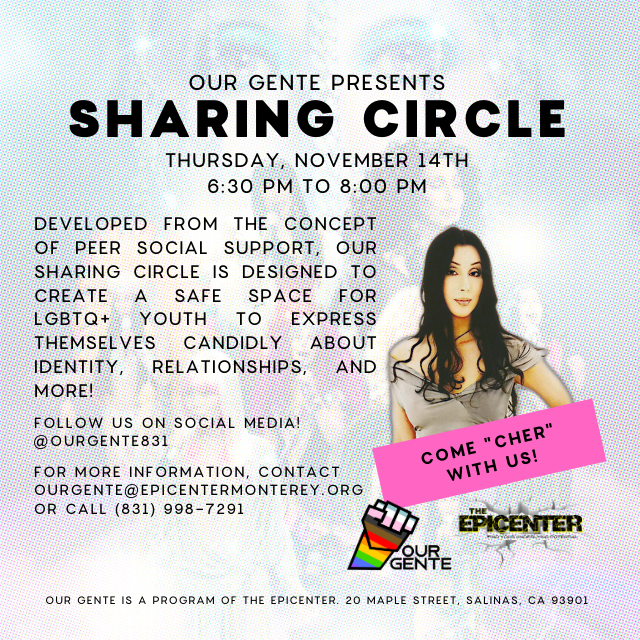 Continuing our series on peer-led and peer-focused social support, Sharing Circle will take place on November 14th, the usual second Thursday of the month, from 6:30 PM to 8 PM. LGBTQ+ youth are invited to share what's on their mind and listen to what their fellow youth have to say in a comfortable and supportive environment free from judgment. It's been very successful and continues to grow every month. Please join us!
Latinx LGBTQ+ Film Festival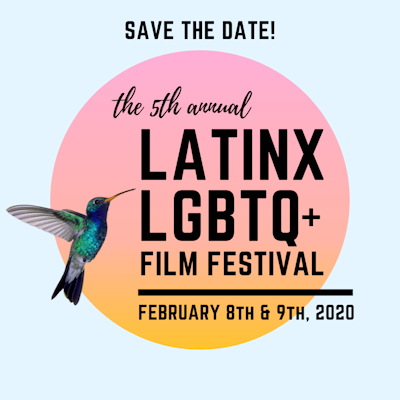 We have a date! The 5th Annual Latinx LGBTQ+ Film Festival will happen February 8th & 9th, 2020. We are currently developing our film screening schedule, and we're so excited to bring you even more quality film celebrating the intersection of LGBTQ+ and Latinx identity! More details as we have them!
Asexuality Awareness Week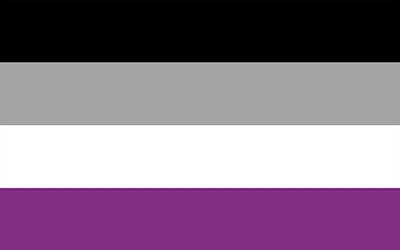 Asexual Awareness Week (October 20th to October 26th in 2019) was first recognized in 2010, and is an annual event that aims to create a better understanding of asexual-spectrum (or Ace) identities and promoting acceptance of these identities in the greater community. It is a special time of the year that is reserved to celebrate all things Ace and helps the Ace community fight for visibility.
What is Asexuality?
"Sexual attraction — an attraction to another person that involves a sexual interest towards them — is a typical part of many non-asexual people's lives. For asexual people, this concept can be completely foreign. Asexuality is a sexual orientation where a person experiences little to no sexual attraction to anyone and/or does not experience desire for sexual contact."
For more information on asexuality, the Ace spectrum, and Asexuality Awareness week, visit aceweek.org!
QTYC Recruitment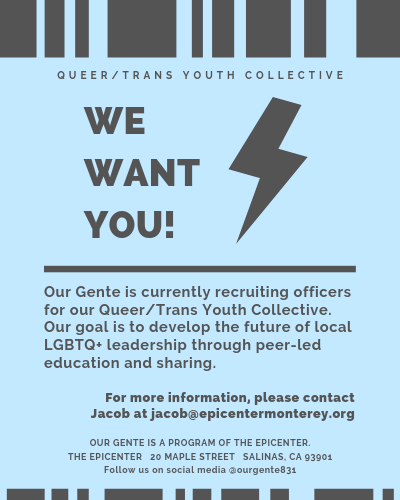 Our Gente is currently recruiting officers for our Queer/Trans Youth Collective. Our goal is to develop the future of local LGBTQ+ leadership through peer-led education and sharing. QTYC officers are essential to the development of Our Gente programming, ensuring that our events are truly made for youth, by youth. These volunteer positions require a commitment of only a few hours a month and are compensated via small stipends based on participation and attendance. For more information, please contact jacob@epicentermonterey.org.

Our Gente is a program of The Epicenter.
Visit our website at epicentermonterey.org.

The Epicenter's drop-in hours are 12 PM to 6 PM, Tuesday through Friday of every week.

This issue of our newsletter featured contributions from Jacob Agamao, Jocelyn Hayden, and Mellisa Duarte-Love.

If you are interested in contributing content to this newsletter,
or participating in the Our Gente program,
contact jacob@epicentermonterey.org.

To subscribe to the Our Gente weekly newsletter,
send an e-mail to ourgente@epicentermonterey.org
with "SUBSCRIBE" in the subject header.