Weekly Newsletter // October 15th, 2019
I made a commitment to making this weekly newsletter happen and all I can say is so far, so good! The purpose of this newsletter is to keep the members of our community informed about upcoming events and engaged with LGBTQ+ issues both locally and nationally. We hope that this can become a great resource for young LGBTQ+ identifying individuals in the Monterey County area! Also, sorry for titling last week's newsletter as September 8th instead of October: I am consistently confused about what month it currently is, but I promise to do better from here!
-- Jacob Agamao
QTYC Recruitment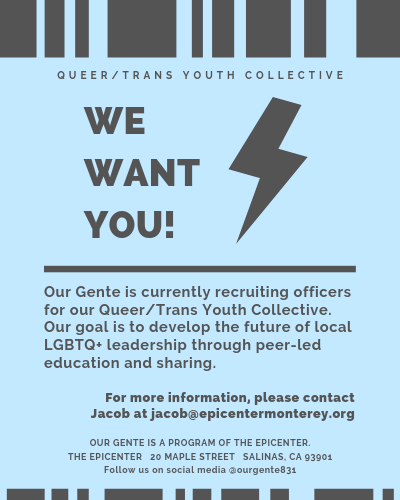 Our Gente is currently recruiting officers for our Queer/Trans Youth Collective. Our goal is to develop the future of local LGBTQ+ leadership through peer-led education and sharing. QTYC officers are essential to the development of Our Gente programming, ensuring that our events are truly made for youth, by youth. These volunteer positions require a commitment of only a few hours a month and are compensated via small stipends based on participation and attendance. For more information, please contact jacob@epicentermonterey.org.
Salinas Valley Pride:
Scholarships and Community Building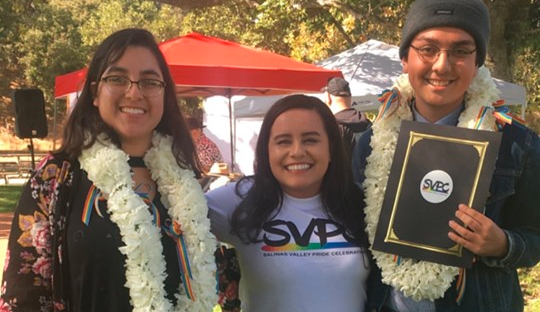 Epicenter youth Angela Soto-Cerros poses with Salinas Valley Pride Celebrations Vice President Aundria Abad and fellow 2019 Salinas Valley Pride Scholarship recipient Victor Santana at the 10th annual Salinas Valley Pride event at Toro Park on Saturday, October 12th.

We had a great time at Salinas Valley Pride in Toro Park on October 12th. Angela Soto-Cerros, an Epicenter youth currently enrolled at CSUMB, was awarded one of three $500 scholarships from Salinas Valley Pride. We're so proud of you, Ang!

Sierra's pitbull Peaches was the star of the Epicenter booth, and we were so happy to engage with the community about our services. We'd like to thank Salinas Valley Pride Celebrations for allowing us to table at the event, and we're definitely looking forward to next year!

For more information on the Salinas Valley Pride Scholarship or any of their upcoming events, visit salinasvalleypride.com!
YOU BETTER WERK, WITCH!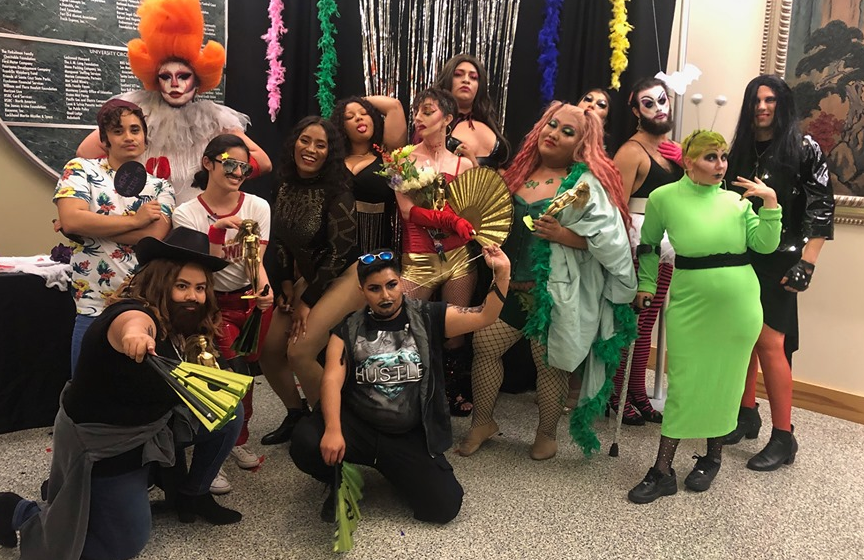 I grew up watching Rupaul's Drag Race in a small conservative town and my dream has always been to attend a drag show. This dream seemed unachievable because I had no LGBTQ+ friends and I had no idea where drag shows were even hosted. Who knew going to CSU Monterey Bay would eventually lead to my dream coming true. Werk Witch was one of the best experiences ever, there was so much talent and hard work unleashed. AyumiPlease was a great MC and had the entire crowd laughing out of their chairs. The drag queens and kings poured their hearts out without showing any signs of fear. The costumes were vibrant and I completely fell in love with Betty Fresas. Her outfits, wigs and entire existence were on point. She definitely showcased her Latinx pride with her song choices and even had beach balls thrown around the room. Congrats to the winner Tara Card! She totally deserved that win with her show-stopping performance of Boney M's Rasputin. I haven't heard of any other colleges throwing drag shows and I am grateful I had the opportunity to be in the crowd. Hopefully this continues for years to come! -- Jocelyn Hayden
OOKY SPOOKY DECORATING PARTY!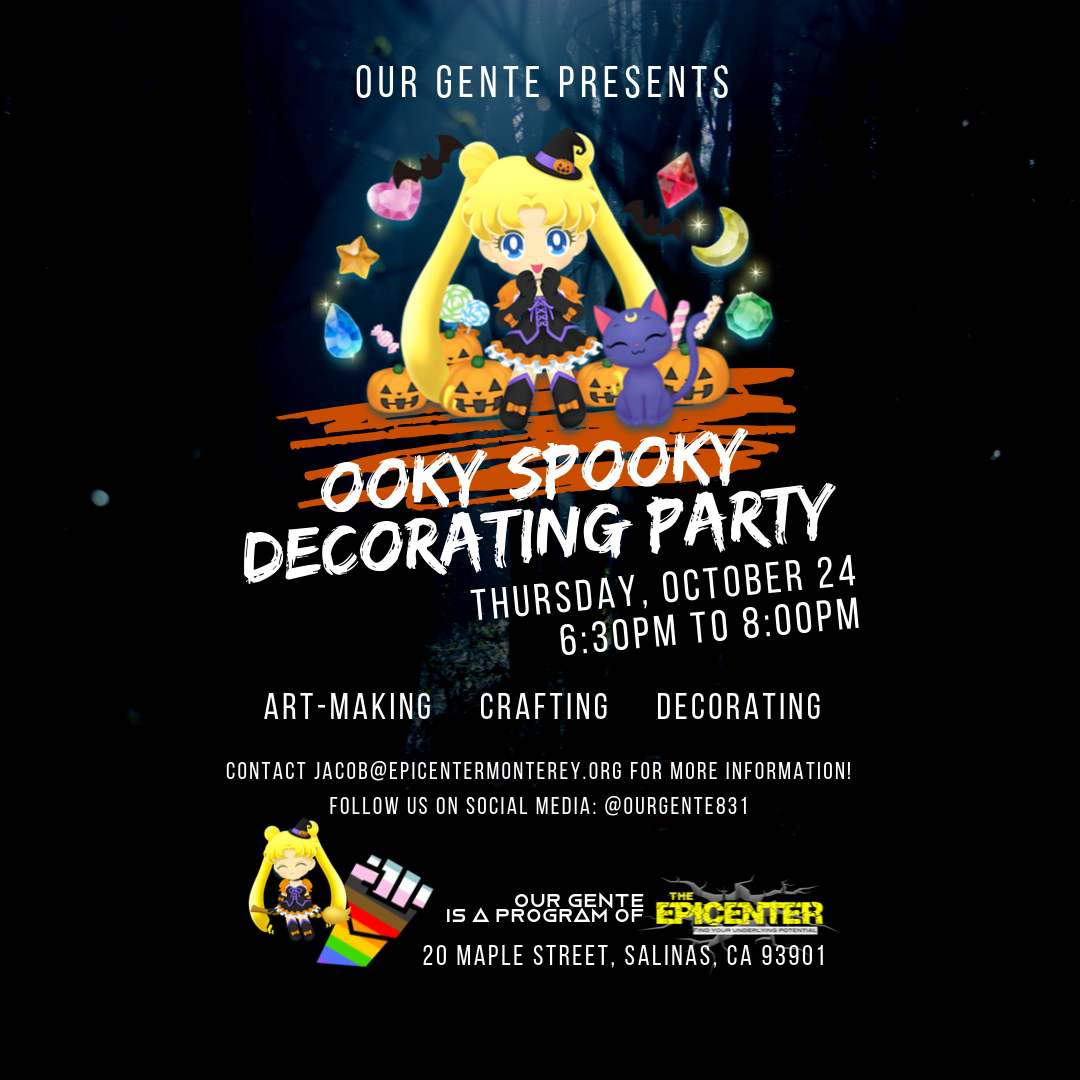 For our second social support group of October, Our Gente will be hosting an arts & crafts night on October 24th at 6:30 PM at The Epicenter. We'll be making decorations for The Epicenter's Halloween Potluck and will also be taking time to decorate the center itself. Bats, ghosts, pumpkins, and more: It's going to be a lot of fun!
HOCUS POCUS HALLOWEEN POTLUCK!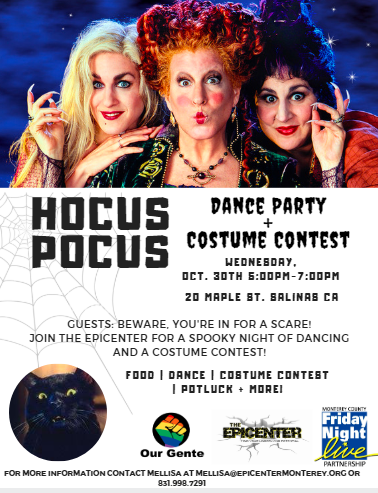 This also serves as the perfect reminder that The Epicenter will be hosting our annual Halloween Potluck on Wednesday, October 30th from 5 to 7 PM. Feel free to bring a spooky dish to share, and come dressed up to take part in our costume contest!
WALKING WITH CHILDREN IN NATURE~
We are currently putting together an Our Gente Hike Day in collaboration with Big Sur Land Trust. All we can share so far is that it will take place on a weekend in November, and we'll be letting you know what's going on as more details are locked down. We hope you're excited to get back to nature with Our Gente and BSLT! We'll be meeting about this on Wednesday, so check back next week for the official details!

Our Gente is a program of The Epicenter.
Visit our website at epicentermonterey.org.

This issue of our newsletter featured contributions from Jacob Agamao and Jocelyn Hayden.

If you are interested in contributing content to this newsletter,
or participating in the Our Gente program,
contact jacob@epicentermonterey.org.

To subscribe to the Our Gente weekly newsletter,
send an e-mail to ourgente@epicentermonterey.org
with "SUBSCRIBE" in the subject header.